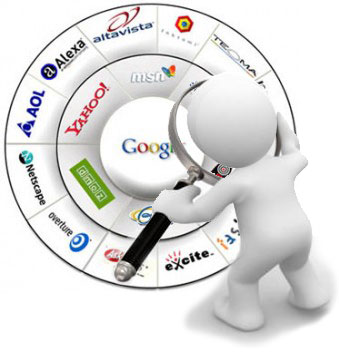 Are you struggling to get recognized on search engines such as Google, Yahoo!, or Bing? We can help improve your website's search engine rankings with Search Engine Optimization (SEO). There is no greater way to market your business than SEO (Search Engine Optimization) and SEM (Search Engine Marketing).
First off, if your website doesn't pull up on the first page of any major search engine you are likely to never be found. And we don't mean by just typing in your company name. We are talking about someone searching for the products and / or services you offer and coming up on the first page. Without relevant keywords that explain your business and services offered, and having successful online marketing campaigns you are likely to be stuck in the mud.
Stop spending your money on print advertisements in the local newspaper, door hangers in your local neighborhood, and flyers on the counter a local coffee shop. Yes, those can be effective marketing mediums, but over ¾ of the U.S. economy uses the internet on a daily basis. Whether from a computer at home, a computer at work, or with the rapidly growing smart phone world people are searching for products and services right on their phone. Before you spend another dime on those marketing ideas listed above, take a look at your website and make sure you have effective SEO and SEM. This will take you a lot farther and with less money.
Here at Apex Advertising LLC we can develop a search engine friendly website, load it full of prevalent keywords, and get your website found on the front pages in the organic search engine rankings with a little blood, sweat, and tears. Ok, well maybe that is a little exaggeration, but with our dedicated formulas we will be sure to increase your sites traffic and ranking. We are on our way to being the top Montana SEO company.