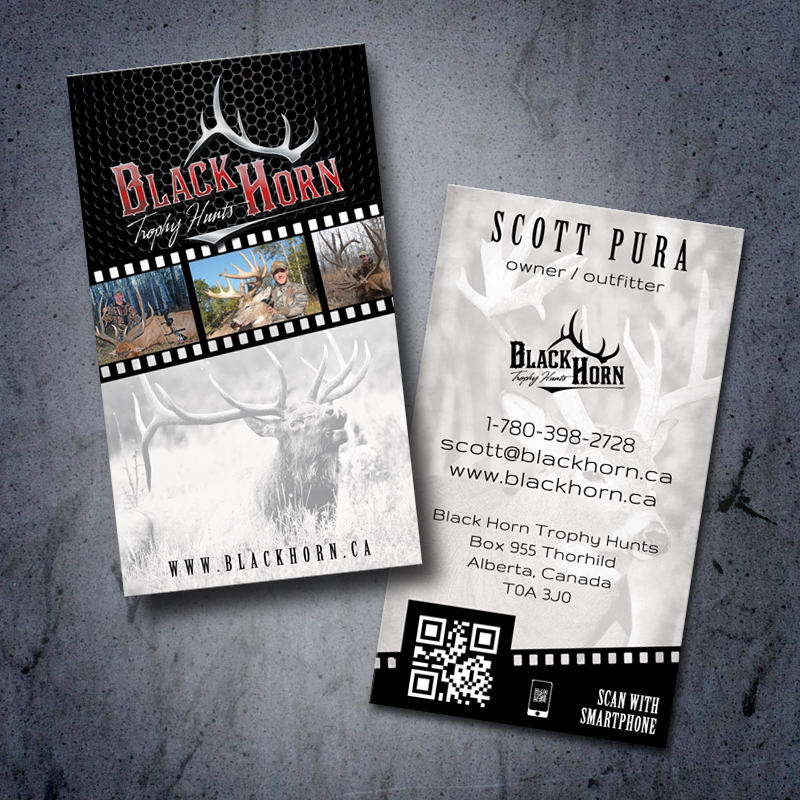 We just finished up another set of hunting business cards here at Apex Advertising! This set for Black Horn Trophy Hunts out of Saskatchewan, Canada. Black Horn Trophy Hunts specializes in producing big, and we say big, we mean BIG bulls! Along with producing big bulls, they have some monster whitetails that Saskatchewan is known for running around as well. Scott Pura, owner of Black Horn Trophy Hunts got in touch with us regarding a new logo design to help further the Black Horn brand. Wanting some that could be easily reproduced as a sticker, embroidered on hats or shirts, and used in a variety of other formats we were off and running.
After creating a more modern, but simple hunting logo design with an elk antler, we then were asked to create a set of hunting business cards for Black Horn as well. Our main goal in the creation of these cards was to showcase a few trophies that had come out of the Black Horn camp. Black Horn Trophy Hunts has hosted multiple well known individuals, including 9 time UFC Champion Matt Hughes. Matt is featured on the left hand side of the card with is monster Saskatchewan bull. Scott's card have been a hit and we were honored to have worked with Black Horn Trophy Hunts and we look forward to assisting them in future!
Here is a little bit about Black Horn:
"Northern Saskatchewan – a place where legends are born, is World Famous for producing trophy animals.
Black Horn Trophy Hunts is situated in Pristine Northern Saskatchewan, near Turtle Lake. Within this setting of a colorful fall morning you will hear the roar of a bugling Rocky Mountain Elk as you start your dream hunt. The sightings of Monster Whitetails and Huge Elk will frequent your stay with us. You will retire to comfortable clean accommodations and delicious home cooked meals at the end of a great day of hunting. This challenging yet rewarding hunt is a hidden paradise for hunters of archery or rifle. The rugged and diverse terrain will make this a once in a lifetime hunt.
Black Horn Trophy Hunts may be one of Western Canada's toughest estate hunts if not the toughest estate hunt you will find. We will get you the results you deserve without compromising the integrity of hunting. The staff here at Black Horn Trophy Hunts will make you their number one priority to ensure you have a successful, unregrettable, Hunt of a life time."
If you're looking for hunting business card design, or a new hunting logo design, simply fill out that killer sliding form on the right side and hit that big orange submit button and we'll be in touch with you before you know it!