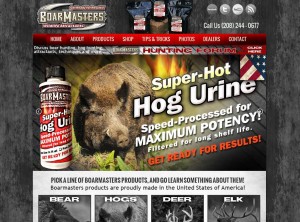 Are you searching for a new hunting or outdoor website design? Look no further as Apex Advertising is leading the way in the outdoor industry when it comes to website design, graphic design, and marketing. We recently finished up another website here at Apex, this one for Nick Hopkins with Boarmasters Wildlife Attractants out of Southern Idaho.
Boarmasters sells a full line of bear bait, urines, and other lures to increase your bear hunting success in the woods each spring and fall. In addition to their bear products, they offer a full line of hog attractants, deer attractants, and elk attractants to increase your hunting success and experience in a variety of different seasons.
The existing Boarmasters site was built on a "Do-It-Yourself" website builder through Go Daddy. Wanting a truly custom design, along with more versatility and functionality out of a new site, Nick got in touch with us here at Apex to get the job done. One major concern that was expressed was the ability to be able to update and manage the site on his own. After some collaboration on this subject, we decided to build his new hunting website on the WordPress platform.
Highlighting Boarmasters four main product types on the front page for easy navigation, along with several rotating slides to help sell the prospective consumer was one of our main focal points while designing this website. The product pages offer simple and quick buttons that allow the customer to purchase the item while learning about it. They also have the option to view the entire storefront and view other Boarmasters products before making a final purchase. The Boarmasters storefront was also previously built using a quick shopping cart program through Go Daddy, and plans to upgrade to a full eCommerce storefront are in the near future.
Aside from the storefront and product pages, we included a full blown hunting success photo gallery, an easy to read hunting blog, pro staff page for the Boarmasters Pro Staff, and a pile of tips, tricks, and tactics pages to allow hunters to learn how to become more successful in the field each fall. Overall we were honored to work with Nick and Boarmasters and we look forward to working with them on future projects.
To learn more about our hunting website design options and process, click here. If you're ready to get started on your next project, simply fill out the sliding form to the right and hit that big orange submit button and we'll be in touch with you before you know it!