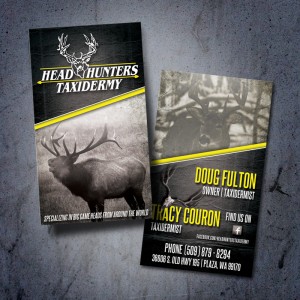 We just finished up another project here at Apex Advertising. This one for Head Hunters Taxidermy located in Plaza, Washington. Doug Fulton with Head Hunters Taxidermy, contacted us wanting to upgrade his current taxidermy business cards. Wanting something eye-catching yet professional, we were eager to jump on this project for him. Doug already had his existing Head Hunters Taxidermy logo in place, so we took all of the necessary information Doug provided us with, and started a unique design to establish a recognizable brand for Head Hunters Taxidermy.
Doug wanted to leave a strong message through the use of big game pictures. Being located in the heart of the Pacific Northwest in prime elk country, we felt like we should make use of a mature bull elk bugling on the front of the card. Doug's taxidermy shop is located near prime whitetail hunting in Washington State, thus being another animal that Doug would take in more frequently than others. That being said, we wanted potential clients from around the area to relate to the mature whitetail buck on the back of the card and think about bringing their trophy to Head Hunters Taxidermy for a quality mount. Washington also has some great mule deer hunting in the central and north central part of the state, so we put a european mule deer mount in between Doug and Tracy's names to resemble mule deer hunting as well. Then the rest filled in with a grunge background and paper texture on his outdoor business card design to resemble the rugged aspects hunters go through to pursue their trophies in the field. After portraying the above items, we wanted to add a little color and modern touch to the cards. We did this by adding a yellow and white banner at an angle with a shadow to give the cards some depth.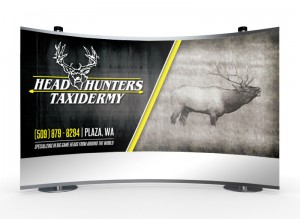 After we had finished the taxidermy business card design, Doug asked us to build him a new vinyl trade show banner that was 8 feet wide by 4 feet tall for his taxidermy booth at local and national sportman's shows. Keeping his branding in mind from his outdoor business card design, we built a quality banner that Doug can use to draw attention as prospective clientele walk by. Head hunters taxidermy now has a modern set of grunge hunting business cards designed specifically for his business, and a new outdoor trade show vinyl banner he can use for years to come, all with the same branding message inline.
Are you looking for a set of hunting or outdoor business cards custom designed for your business? You can read more about our professional business card design here. To view our portfolio of custom design business cards click here.
Or to get started right now, simply fill out the sliding form to the right and hit that big orange submit button and we'll be in touch before you know it. You can also use a more detailed contact form here.