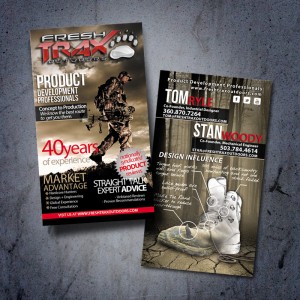 We just finished up another set of custom hunting business cards here at Apex Advertising. We were honored to have the opportunity to work with Tom Ryle and Stan Woody, co-owners of Fresh TRAX Outdoors. Both Tom and Stan have extremely vast knowledge and extensive backgrounds within the hunting and outdoor industry. Both spending a lifetime learning the ropes and acquiring the skills needed to be successful in their hunting ventures each fall, they decided to couple their day jobs as an Industrial Designer and Mechanical Engineer, and form Fresh TRAX Outdoors. Both men working at Intel in the computer software industry, they have vast knowledge on taking a product from concept to completion and everything in-between.
Fresh TRAX Outdoors was formed to help individuals looking to take their idea for a product or design, and make it a reality. Whether you're a small start-up or a large corporation, Fresh TRAX has the knowledge and resources to get your idea from it's initial stages, to the final stages entering the marketplace for sale.
With the Fresh TRAX Outdoors business card design, we wanted to convey technology, product development, as well as the rugged backcountry bowhunting both Tom and Stan share a passion for each fall. We felt what better way to convey those messages than through a magazine style hunting and outdoor business card design. The front of the card conveys a list of items that they specialize in, as well as showcasing their experience, exposure, and passion for the outdoors. Our main focus was to highlight who they were with their logo, then focus on over 40 years combined experience in product development they bring to the table. Then fill you in with what they do, and some main achievements they've accomplished throughout their career. The back of the card displays important contact information to get ahold of both Tom and Stan, also while showcasing one of the most important pieces of the card design. Being product development professionals, they test gear to the extreme to find its strengths and weaknesses to help further companies design and manufacturing. Running a pair of Crispi hunting boots in to the ground this past season, they then submitted numerous details back to Crispi to help improve or solidify their design. A few of these notes being outlined in the notes around the boot. Taking a sketch of the boot to resemble the initial product development, and fading it in to the used and abused boot that is the finished product, we felt brings to light exactly what Fresh TRAX stands for; product development concept to completion. After numerous consultation efforts between the two parties, we reached a final concept and the Fresh TRAX Outdoors hunting business cards came to life.
It was a true pleasure working with Tom and Stan, and we look forward to working with them in the future. Also, we would like to thank Hoyt Archery for the photo used on the front of the card. Visit Fresh TRAX Outdoors here for more information.
Are you looking for custom hunting or outdoor business card design to help further your business and presence? Read more here on our professional business card design. If you're ready to get started, simply fill out that killer sliding form to the right and hit that big orange submit button and we'll be in touch with you before you know it!