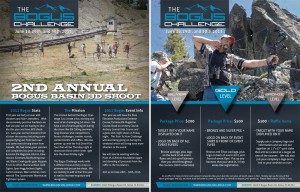 Here at Apex Advertising we just finished up another media kit. This media kit design for the Bogus Basin 3d archery shoot put on by Steve Speck, Dan Staton, and others with S & S Archery and Train To Hunt. The Bogus Basin 3d shoot is located at the Bogus Basin ski resort just outside of Boise, Idaho. This premiere archery event drew crowds from across the country in 2012, and 2013 is looking to be even bigger. The new archery media kit design encompasses a little information about the 2012 shoot, but also talks about upcoming events, sponsors, and sponsorship packages for 2013.
The Bogus Basin media kit will be used to present to hunting companies, local companies, clubs, and groups to raise money to be able to make the 2013 Bogus Basin 3d shoot possible. Sponsors will be awarded certain items throughout the archery course based on their contribution amount. Four select sponsors will have their logos displayed on event t-shirts and other marketing materials.
Here is a little information about the 2013 Bogus Basin 3d Archery Shoot:
"This year we will have the Pure Elevation Productions Course, Extreme Elk Magazine Course, Dead on Archery Course, Archery Central Kids Course and a glow stick night shoot on Friday night. The Train To Hunt Challenge will also being going on during the weekend which is a fitness course to test your fitness level and ability to shoot under pressure. We will also be working with the Hunt of a Lifetime foundation again and donating all proceeds from the raffle to the foundation."
Are you looking for a hunting media kit design to help solicit sponsors for your event or business? We can help you achieve your goals and dreams. All you have to do is simply fill out that sliding form on the right, and hit that big orange submit button and we'll be in contact with you before you know it!