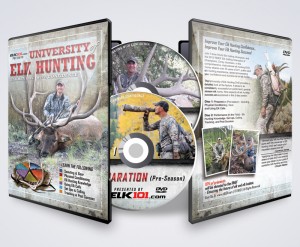 We just finished up another project here at Apex. This one for our client, Corey Jacobsen, Founder and Owner of Elk101.com and Extreme Elk Magazine. Corey is a 7-Time World Elk Calling Champion and the instructor in the new 2 disc series, University of Elk Hunting, Elk Hunting With Confidence. Within this 2 part series, Corey goes over the following: Scouting & Gear, Physical Conditioning, Elk Hunting Knowledge, Using Elk Calls, Set Ups & Calling, and Tracking & Post Success.
If you are looking to improve your elk hunting knowledge and become a more successful elk hunter in the woods each fall, this is one DVD series you won't want to miss out on. As usual, we enjoyed working with the Elk101 crew on this hunting DVD cover design. Featuring Corey's public land 390″ Arizona monster bull on the cover, this is sure to turn some heads on the shelf as individuals pass by. The graph on the front will let customers know right off the bat it's an instructional DVD series and not just another hunting DVD. With quotes from reputable sources like Cameron Hanes and Chuck Adams, this will build confidence immediately that this DVD series is worth its weight.
If you're looking for a hunting dvd cover design or hunting graphic design project, we have your solution. You can view our portfolio here. Or, if you're ready to get started, simply fill out the form to the right and hit that big orange submit button and we'll be in touch with you before you know it.